Nova Scotia Home Builder Welcomes Customers To New Showroom
With change happening rapidly over the past few years, it was time for Nova Scotia Home Builder– Bentley Built to expand and create a customer-facing showroom. This space would act not only as a home base for employees, but to serve its clients looking to create a truly custom-built home.
The Renovation Process
The building needed to transform into a functional workspace, but also feel inspirational and creative. That being said, converting this 5000 sq/ft building from a manufacturing space to a beautiful showroom was not an easy feat. The office is laced with character to attract clients, which took vision and tenacity.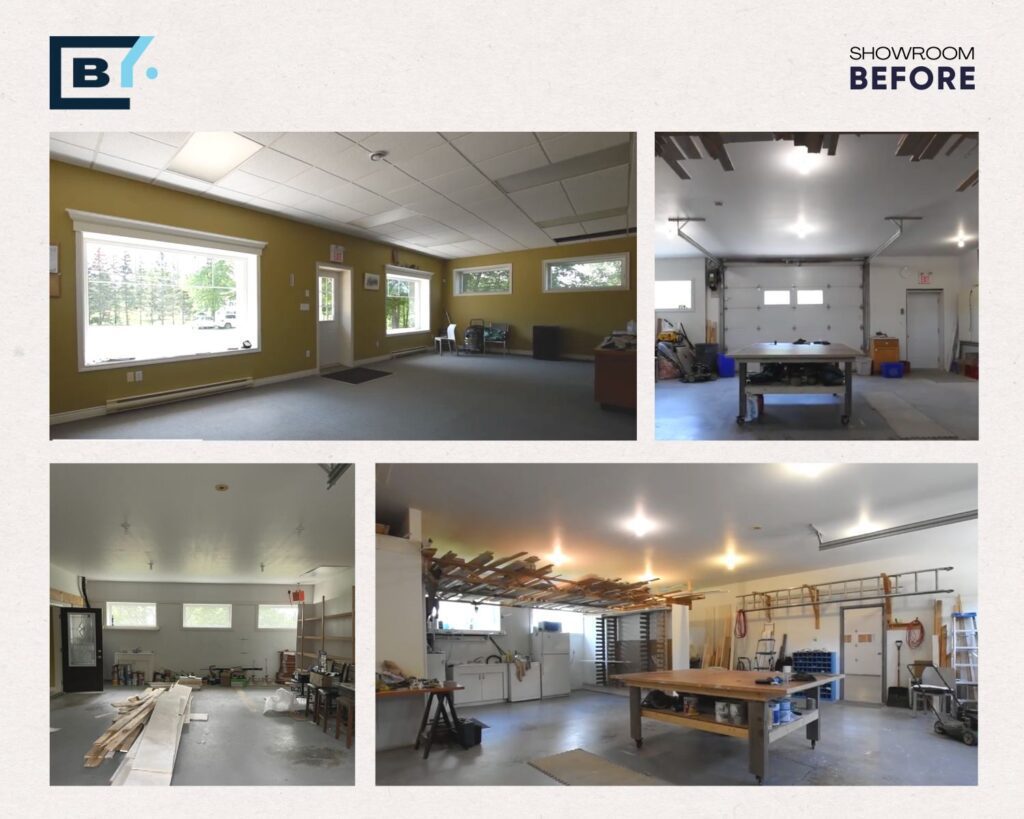 Converting a garage into an attractive workspace may have been an enormous task, but this light and airy backdrop with 10' ceilings, was a perfect blank canvas for a designer to run with.
"When clients enter the building we want them to feel like we are sharing our home with them. A space where they can easily envision how their forever-home may look and feel and choose the finishes to achieve that"– designer Virginia Fynes.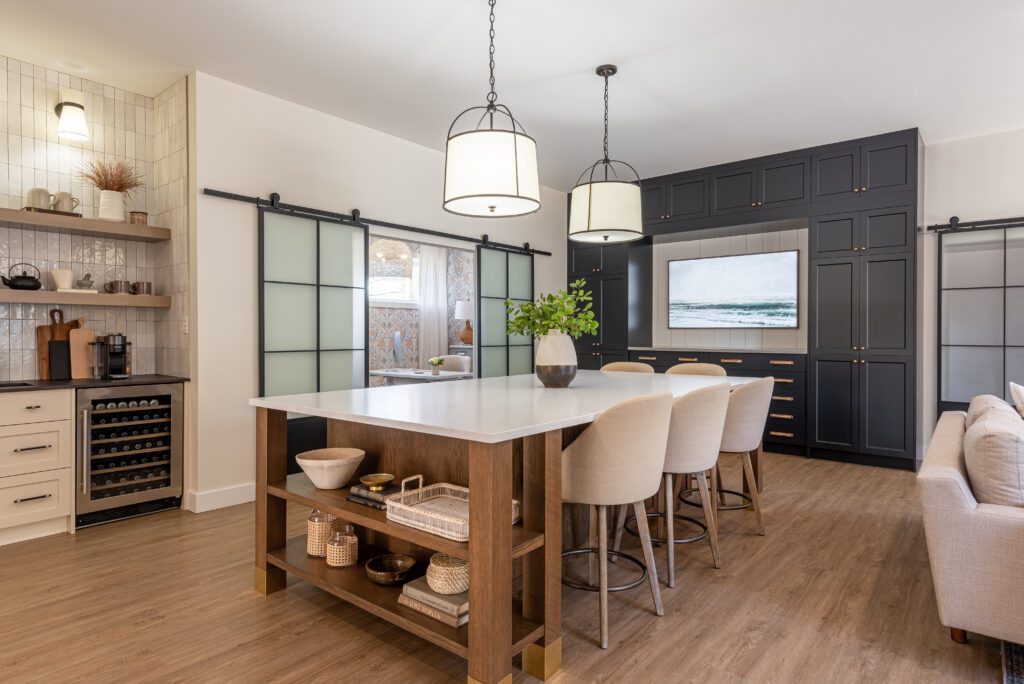 Showroom Vision
The goal for the showroom finishes was to avoid anything that would have a definite time stamp and could easily adjust as trends change. That being said, transitional design with neutral finishes, and casual colours that incorporate small doses of multiple styles to appeal to a broad array of client tastes was the vision. As a Nova Scotia Home Builder, it was important to maintain some elements of rural east coast design and a touch of Annapolis Valley charm.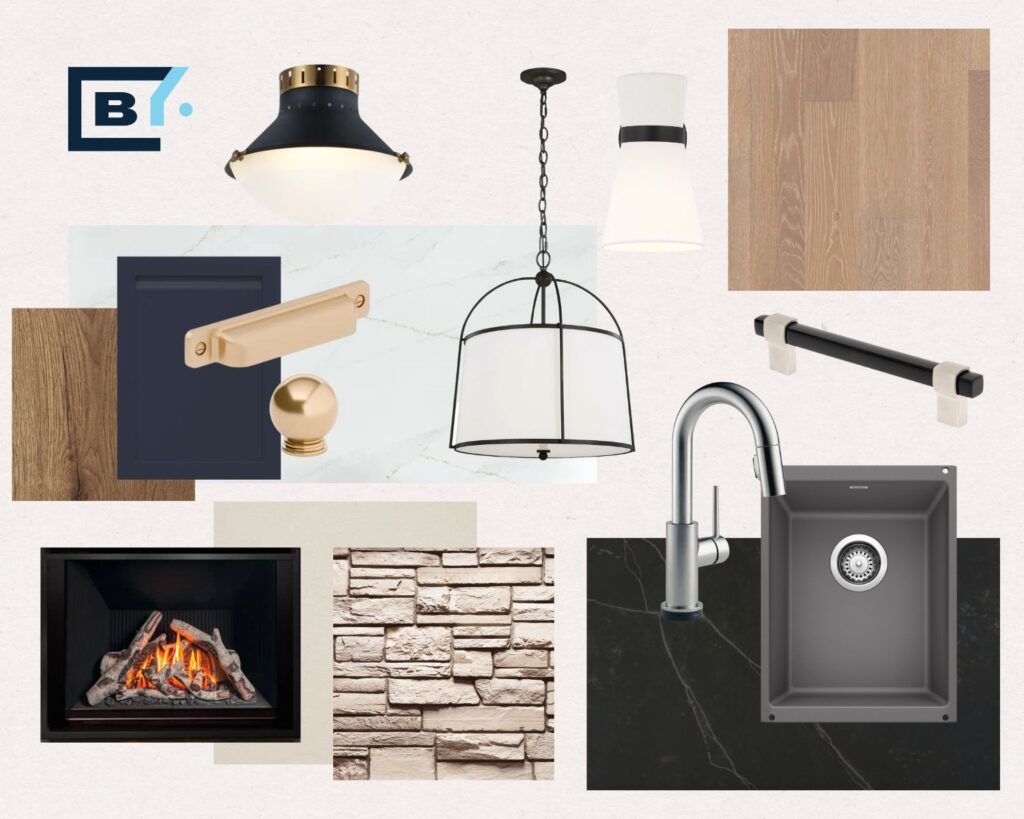 Working Showroom Finishes
The most noteworthy element that went into designing this Nova Scotia home builder showroom is the ability for the spaces and finishes to work double duty. Each finish was selected to not only be aesthetically pleasing but provide a functional purpose to share with clients to help make the selection process seamless. 
For instance, the cabinetry built by Beaumont Cabinets & Millwork not only conceals samples but gives clients a sensory experience where they can experience the craftsmanship. Each cabinet box was thoughtfully designed to not only be functional storage but use the different materials and construction practices that are available through our suppliers. This experience is tailor-made to suit our custom-built home clients. We share products that as premier home builders in the Annapolis Valley have used on numerous builds throughout the years and will stand behind the quality and workmanship.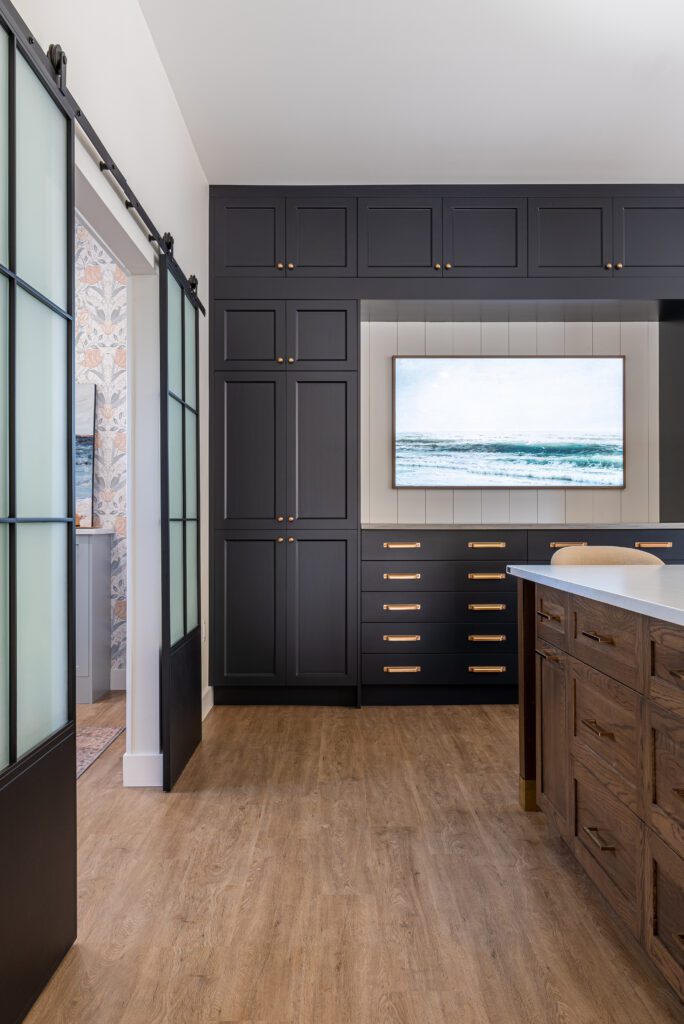 Showroom Features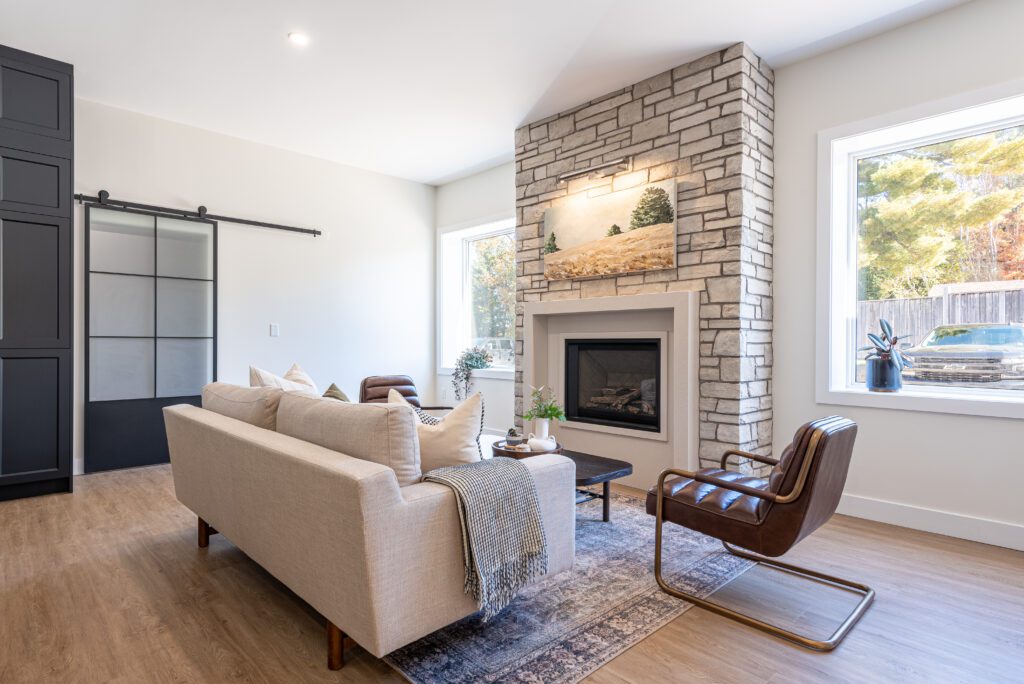 The Showroom Floor Plan
The original footprint of the building was a reception area, plus 3 garage bays with 9' overhead doors. After deciding how this space would best serve customers, plus accommodate our evolving staff, the design team was able to divide the quadrants of the building into functional work and meeting spaces without a cumbersome structural renovation.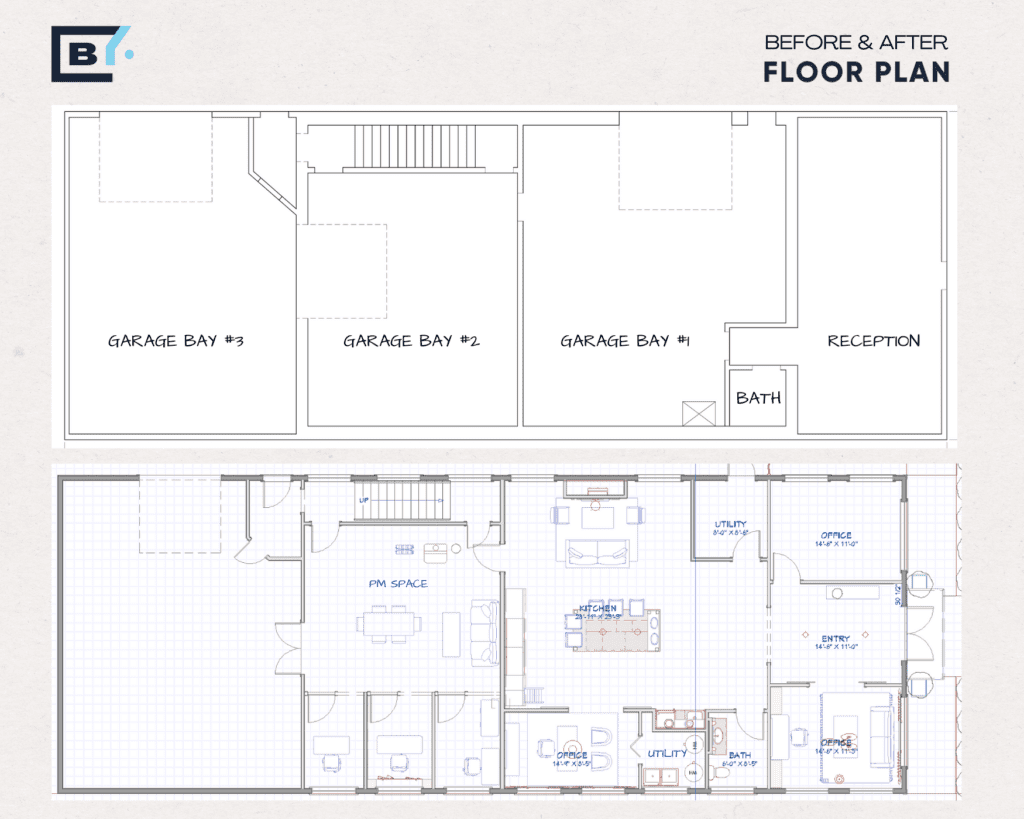 Where our main focus here at Bentley Built is providing clients with options for energy efficiency, the spaces needed to be retrofitted to incorporate our high efficiency standards. This included heat pumps, upgraded Kohltech windows and doors and improved mechanicals. In addition, the building needed to be brought up to technical standards for connectivity and sharing amongst the team and with clients.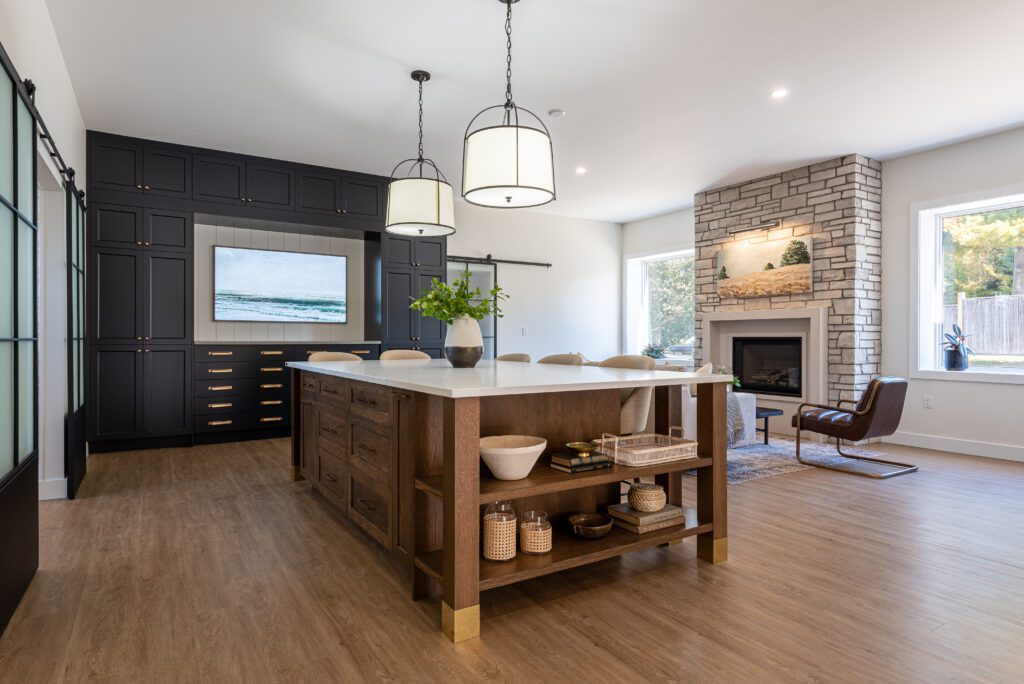 Comfortable Inviting Space
The vision for this workspace was to have it reflect the homes we build. We knew this space needed to serve two purposes: to be both functional and collaborative. The office not only needs to be a space to bring clients, but serves as an open meeting space where the team can gather around the large island, plus intimate closed-door individual meetings.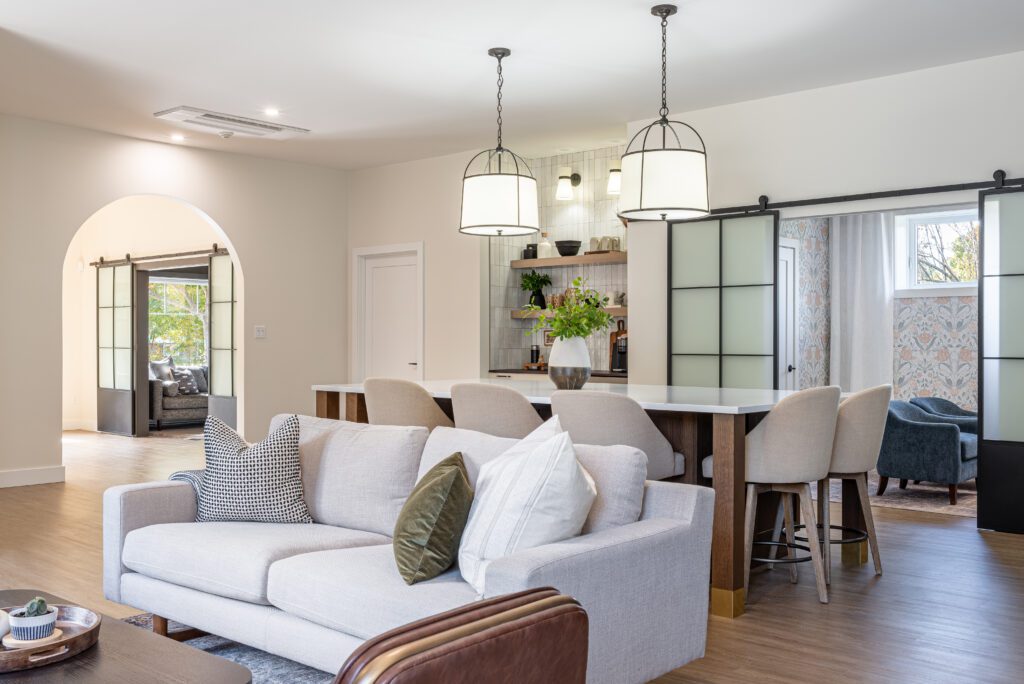 To appeal to a range of demographics and add a bit more personality than the neutral common spaces, the two closed-door offices feature bold styling leaning opposite light and dark. The sales office is dark and moody, with a lot of millwork details; including a shiplap ceiling, shadow box trim, and built-in storage surrounding the custom hardwood built sit-stand desk.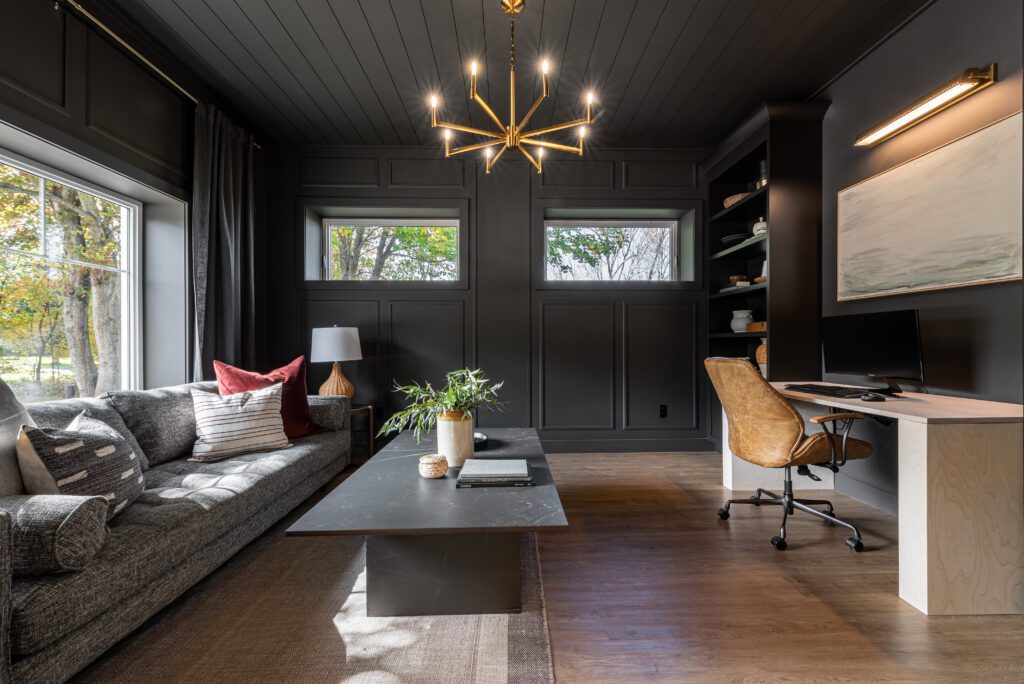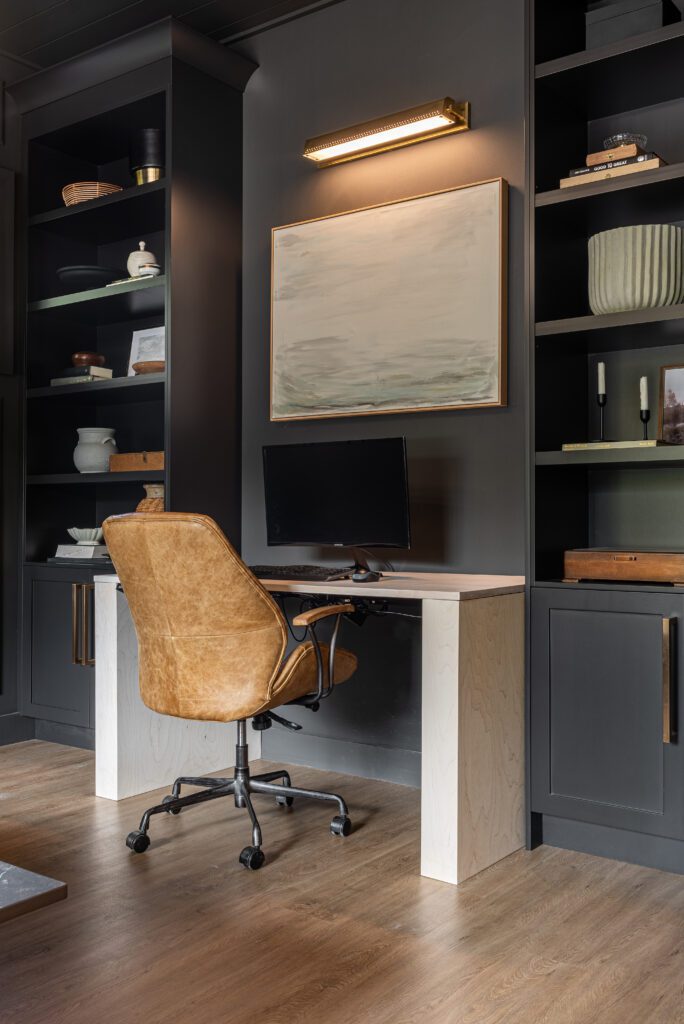 The design office is saturated in soft pastel shades, bold floral motifs, and original artwork, and is a true reflection of our designer's demeanor. The Corian sit-stand desk shares an attainable solid surface option and a custom furniture piece built by Beaumont Cabinets & Millwork for additional storage.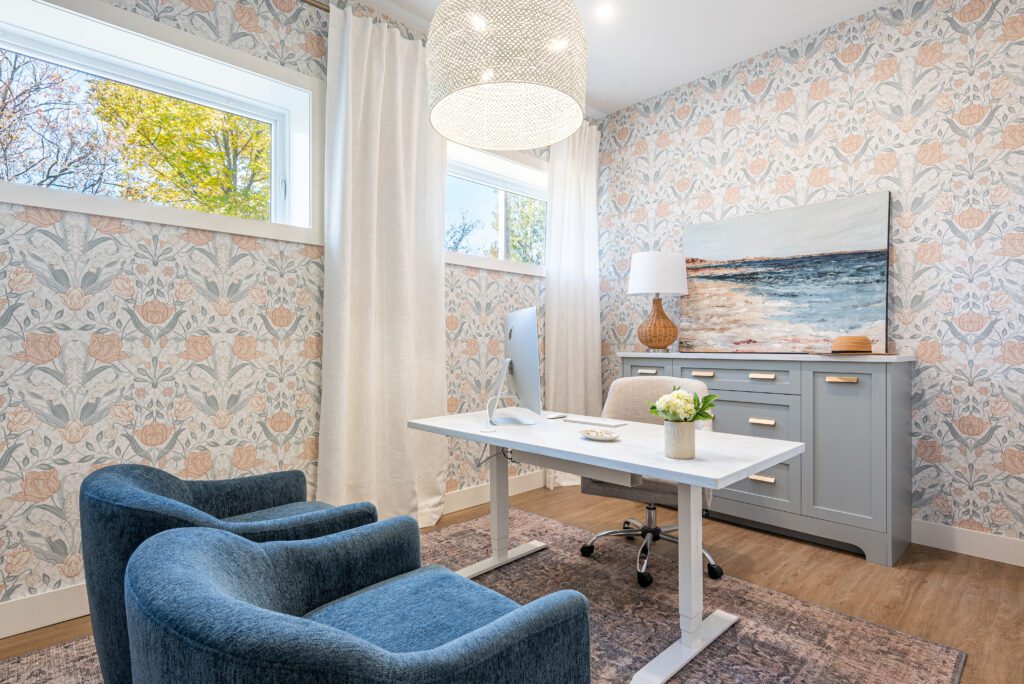 Special Design Considerations
The ability to accommodate clients from any walk of life was a major design consideration. With low threshold entrances, all client services accessible from the lower level, and a barrier-friendly restroom we are ready to welcome all clients.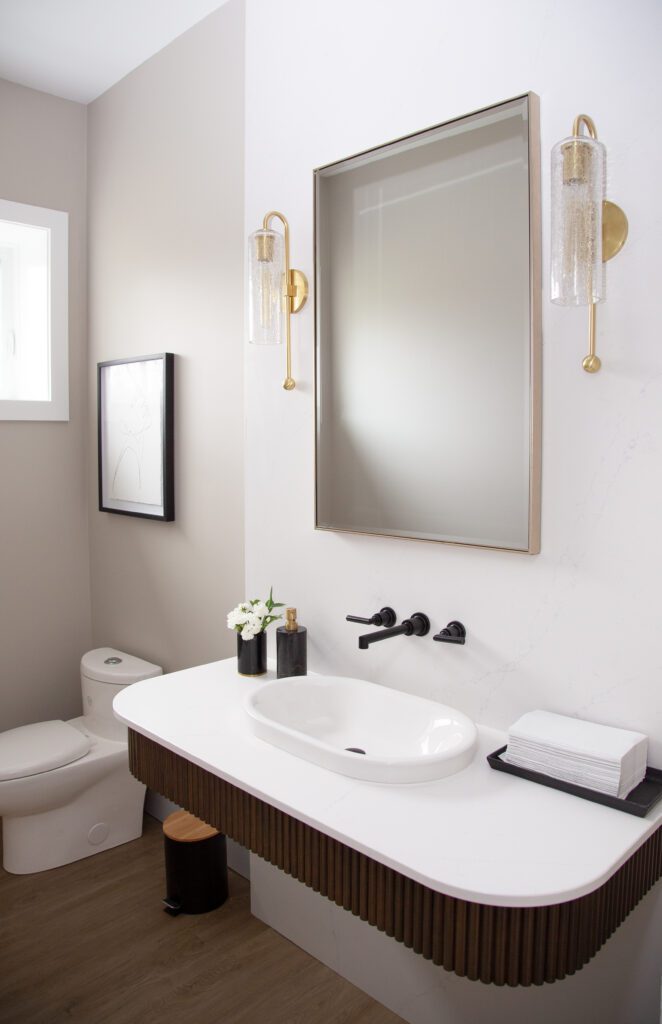 If you are looking for a premier custom home builder in the Annapolis Valley, please check out our portfolio.  Contact our sales team today to discuss our home-building process.