Choosing Finishes
Let's talk about finishes.
First, what do we mean when we say 'finishes'?
Basically, finishes refers to everything you can see when your home is done. So, some exterior finishes would be windows, doors and siding, and some interior finishes would include doors, lighting and countertops.

Who chooses?
You do! (If you want.)
We're here to give you suggestions and options, but ultimately, you can choose what catches your eye. However, if making these decisions isn't up your alley, then we're happy to help pick things out.
Where do I look?
We have a large selection of local suppliers, as well as some online retailers and wholesalers, depending on the product. (Fun fact: we do most of our buying for finishes through Our Home Hardware Store in Middleton!)
Most commonly, homeowners will send us pictures of their vision for the exterior or interior space. Once we see those, we direct them to suppliers, order in samples, and help pull everything together!
Once you've chosen, we bring the products in and install them. If there is a situation where a homeowner can get it at a better price than we can supply, we are happy to give the credit for what we had specified and install the owner supplied products.

Are there any restrictions?
Exterior finishes (and some interior) do have some restrictions in order to meet local building codes, so this can sometimes limit our decisions. Also our climate (thanks, Canada!) can sometimes eliminate some popular exterior options that work better in warmer climates with more consistent temperatures. 

At what point in the process do I need to choose?
The windows and plumbing fixtures are the first finishes that require a selection, because their details need to be set in stone on the plans that are done very early on in the construction process.
The exterior finishes are often selected early on as well, so windows and doors (and everything else!) will achieve the desired look.  
A lot of the interior decisions can wait until the drywall stage so the spaces are created and you can get a chance to walk around your house and visualize in full life scale.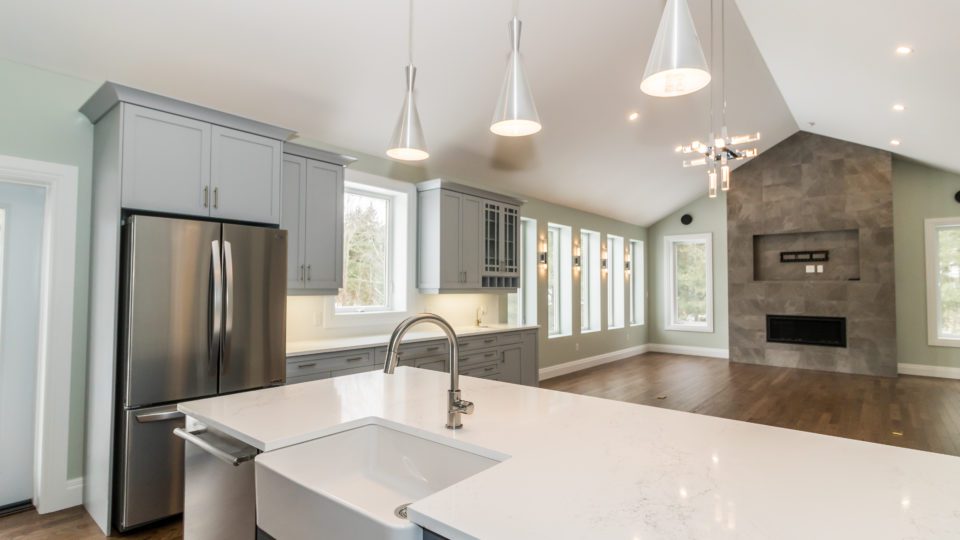 Sometimes, selecting the finishes can be overwhelming. If this is the case, there's always the option to hire a consultant to help out. Interior designers and /or interior decorators can be a great investment to help achieve the interior and exterior look and feel you're dreaming of!
Still have questions? Contact us to learn more about the process!